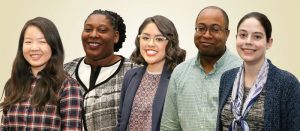 From left to right (Crystal Chen, Tracy Drake, Aurelia Mandani, A.J. Muhammad, and Claire Nickerson)
Image credit: American Libraries Magazine 2018
Crystal Chen
Crystal Chen is a Young Adult Librarian at the Woodstock Library branch of the New York Public Library (NYPL). She holds a BA in fine arts from Amherst College, an MFA in printmaking from SUNY New Paltz, and a MSLIS from Pratt Institute. She has served on NYPL's Best Books for Teens Committee (2016 and 2017) and NYPL's YA Advisory Committee (2018).
Tracy Drake
Tracy Drake is an archivist at the Chicago Public Library. She graduated from Eastern Illinois University with a BS in African American Studies, a MA in history from Roosevelt University and a MSLIS degree from the University of Illinois at Urbana-Champaign. She is also one of the founding board members for Project Back-Up foundation, an organization that helps community members preserve their family history. Outside of work she enjoys traveling, exploring new places in the city of Chicago, reading and hanging out with her favorite 9-year-old.
Aurelia Mandani
Aurelia Mandani (she/her/hers) is a systems administrator through Cherokee Nations Service Group at NOAA Boulder. Aurelia holds a BA in Political Science and International Studies, along with a MLIS from the University of Denver. She is also a Gates Millennium Scholar (cohort 2010), and is currently working on her PhD in CSIS (computer science and information systems) at the University of Colorado at Denver.
A.J. Muhammad
A.J. Muhammad is a Librarian in the Jean Blackwell Hutson Research and Reference Division of the Schomburg Center for Research in Black Culture (NYPL).
Claire Nickerson
Claire Nickerson is the Learning Initiatives and Open Educational Resources librarian at Fort Hays State University. She provides research help and information literacy instruction and assists faculty in in implementing zero-cost course materials in the classroom. She also teaches introductory research and writing skills (and, soon, data literacy) to graduate students in the Masters of Liberal Studies program.
---
Go to ALA Poster Presentation Meet the Team Find Your Data Pathway