This webinar occurred on February 23, 2021. The webinar recording, slides, and resources are located at the bottom of this page.
Instructor: LaShaune Johnson, Ph.D.
Public libraries serve increasingly diverse stakeholders, each with unique interests, needs, and strengths. Using the tools from community engagement and culturally responsive and equitable evaluation (CREE), you can help create a welcoming space where community members see their culture, values, and lived experiences reflected in the library programing and collections; and an environment where they are excited to contribute to transparent and collaborative program evaluations.
During the live webinar, I will introduce the field of CREE (its origins, its main principles, and its common applications). After that brief introduction, participants will explore the different kinds of community engagement and when to employ each method.
Then, in the recorded follow-up lesson we will roll up our sleeves and get to the real work! First, we will practice creating an interactive and culturally responsive evaluation activity that can be used at the end of meetings or events. Guided by some of the self-assessment tools for culturally responsive evaluation and community engagement, we will also create some sample scripts that will help us navigate challenging discussions about evaluation results with our teams, stakeholders, and community partners.
Participants will leave this session ready to begin integrating CREE into their program planning and to start to lead conversations about community engagement.
This session is part of the RIPL Data Boot Camp Series. Each session includes a 90-minute live webinar and a 60-minute recorded follow-up lesson for anyone who is interested in learning more about the topic. The follow-up video will be available on this webpage on the date of the live webinar.

Instructor: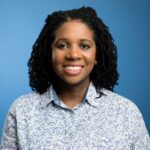 LaShaune P. Johnson is an Associate Professor in the Master of Public Health program and the Assistant Director of Creighton University at Highlander Center. She is also the Founder of Estella Lucia Evaluation, LLC., a firm that specializes in culturally-responsive evaluation, coaching and equity training. She is a medical sociologist who has a PhD in Sociology from the University of California-Santa Barbara. She earned her undergraduate degree in Sociology and Medieval/Renaissance Studies from Wellesley College. She is an alumna from the Annie E. Casey Leaders in Equitable Evaluation and Diversity (LEEAD) program; and is a former New Generation Fellow of the Place-Based Justice Network. As researcher, she focuses on LGBTQ+ health, African American breast cancer inequities, childhood obesity, and Muslim maternal/child health. Partnerships with community members are key to the success of her work, and to enhance those partnerships, she uses community-based, arts-based and participatory research and evaluation methods. She is currently working on a poetic transcription project, which focuses on the journeys of Black cancer survivors.